The answer in the margins
Some thoughts on queer kinship and how it might save us
Pride began a few days early this year. On May 30, New York City's First Lady Chirlane McCray announced the city would erect statues of Marsha P Johnson* and Sylvia Rivera. As a Gen X queer, I have to say it was mind-blowing to see New York Senator Chuck Schumer tweet his support of the transgender women of color who lived, led, and loved on the margins of New York City. Sure, Schumer's a liberal senator from New York, but I know that even a decade ago it would have been almost unthinkable that someone like him would know the names of, let alone publicly applaud, the "street queens" who led the queer liberation movement.
On one hand, it feels validating to see so much mainstream recognition that Stonewall was an uprising spurred by police brutality against queer and trans folks of color, and that these folks led the queer liberation movement. This reclaiming of our narrative and history is the result of so much hard work by queer and gender-nonconforming people, mostly of color, across the country. It is the result of all of our organizing on the streets, with public officials, through the arts, in the media, in academia, and beyond.
On the other hand, I am cautious.
Earlier this month, I walked past the fast-fashion chain Primark in downtown Boston, where rainbow Pride shirts sparkled in the windows. Over the past decade (spurred, I would argue, by the gay marriage movement) Pride has been co-opted by captialisim into a fully commodified event.
And I think it's vital that we consider what we are in danger of losing when we move from the margins into the center.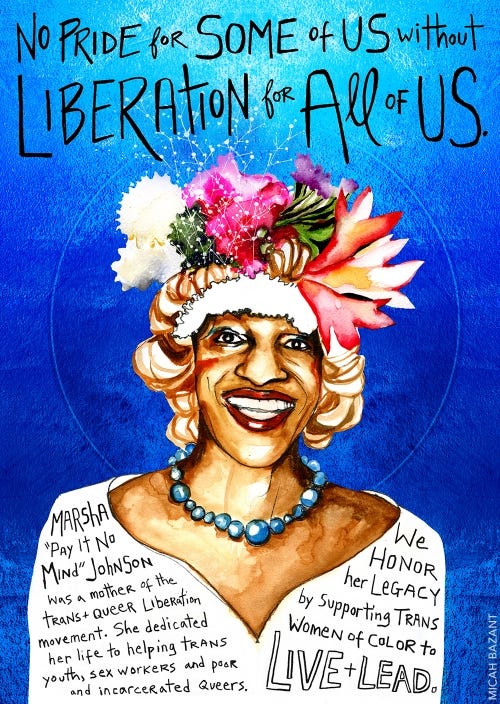 Image: Painting of Marsha P Johnson by
Micah Bazant
. Marsha wears a gorgeous smile, fabulous headdress, and a blue-bead necklace, vibrant against a blue background. Text says: "No pride for some of us without the liberation of all of us. Marsha 'Pay it No Mind' Johnson was a mother of the trans + queer liberation movement. She dedicated her life to helping trans youth, sex workers and poor and incarcerated queers. We honor her legacy by supporting trans women of color to live + lead."
~~~~~~~
I was in college when I first came across the work of Gloria Anzaldúa. Her work on the new mestiza and the consciousness of the Borderlands was the first time I found my queer, third-culture-kid, mixed-race experience reflected back to me.
Of course, the specifics were different, and they matter—her experience as a Latina literally living in the borderlands between the U.S. and Mexico was very different from my experience as an Asian American and white young woman growing up in Tokyo and Seattle. Still, I recognized in her words what I had always felt but couldn't articulate: that living in the "borderlands" between cultures provided me with a consciousness that encompassed multiple realities—as well as the ability to catch glimpses of wholly different ways of being.
Anzaldúa's writings, and the writings of other queer women of color I discovered then, helped me see that I did not have to try to fit myself into a society that didn't know what to do with me. These writers gave me the courage to trust that there was something valuable about being on the outside, in the borderlands, on the margins.
These days I see more and more clearly how broken our society is. After a lifetime of living on the Borderlands, I believe that I and others like me have some perspective on how to fix it, or, better yet, how to create something entirely different. How to move toward a society that exists in better relationship and alignment with other humans and creatures, with the plants and the stones and the waters of this earth, with the spirits and ancestors who came before us.  
Ena una pocas centurias, the future will belong to the mestiza. Because the future depends on the breaking down of paradigms, it depends on the straddling of two or more cultures. By creating a new mythos—that is, a change in the way we perceive reality, the way we see ourselves and the ways we behave—la mestiza creates a new consciousness. … The mestizo and the queer exist at this time and point on the evolutionary continuum for a purpose. – Gloria Anzaldúa. "La conciencia de la mestiza: Towards a New Consciousness"
~~~~~~~
I embraced the term "queer" fairly early on in the development of my sexual identity. For me, it encompassed both my attraction to people of many genders and gender expressions, as well as my political orientation. And as I learned more of the history of the queer liberation movement, I came to deeply appreciate how queers have historically created and defined queer kinship.
For many, it was about survival—having been kicked out or ostracized from their birth families, they created new, chosen families. They shared resources and cared for each other. I especially loved how these communities were not necessarily defined by romantic or sexual relationships—they transcended couple-hood. They were multi-generational, they were complex, and they existed entirely outside the nuclear family structure.
Marsha P Johnson and Sylvia Rivera, for example, created STAR (Street Transvestite Action Revolutionaries) House – a place for homeless transgender young people to live together as safely as they could. Later, there were the Houses of the ball culture, which provided chosen family structures and safety for young queer and trans people of color. And during the HIV/AIDS epidemic of the 80s and 90s, lesbians and queer women were often the caretakers and support systems for so many gay men who were living with and dying of AIDS. For generations, queers led the way in creating alternate family and community structures.
And then came the gay marriage fight.
I want to acknowledge that the gains made by this fight have been significant in terms of acceptance of queer folks and the successful lifting of a legal barrier. But in my observation and experience, this fight was led and funded mostly by white gay and lesbians with class privilege. They sought acceptance for themselves within mainstream society, rather than liberation for all queer people. Indeed, the fight was carried out at the expense of those on the margins of the LGBTQ community: transgender people of color, low-income folks, disabled people, and undocumented immigrants.
And today, the focus on gay marriage has largely obscured or erased the radical vision of community and kinship, which I believe has always been a great strength of the queer community.
Just imagine if all the resources and energy that went into securing the right for queers to get married went into a movement that demanded EVERYONE should have health care, no matter their marital or job status. That EVERYONE who is in a kinship relationship—not just two people in a monogamous sexual relationship—should be respected as such within the medical and legal systems. Just imagine where we might be if our movement spent the last decade radically expanding mainstream understanding what kinship looks like, what family actually could be, and ultimately what caring community looks like.
That would be a lot harder for corporations to co-opt than the Pride parade.
So as the radical roots of Stonewall are finally being talked about in the mainstream, I wonder what will happen to the legacy of queer kinship. I wonder if it will be exploited or even further erased.
Or, is this our moment? As more and more people recognize how unsustainable and damaging our societal structures are, this may be the time to lift up the queer notion of kinship. To show how an expanded notion of family and community, of resource sharing and respect for all different kinds of deep social bonds, may be, in part what will help us build a new society, outside of extractive capitalism and white supremacy.
If that happens, I'm pretty sure that it's going to be those of us in the Borderlands, living, still, in the margins, who will lead the way.
* One small, but significant symbol that we are losing is the fact that the "P" in Marsha's name was not an initial, and she did not put a period after it. She always said the "P" stood for "Pay it no mind"—as in, "mind your own business and give me the freedom to be the radical queer person that I am." But in much of the media about her today, that small detail—the absence of the period—which says so much, has been lost.
---
Prompting
To use in journaling, writing, meditating, tarot pulling, etc.
Take a moment to identify where you might feel that you are on the margins in any aspect of your life or identity. Now, imagine literally putting down roots there and claiming the space as your own.
How does that feel in your body? In your heart? Is there an energy or perspective you can tap into? What might bloom from this action?
Who are your companions in that space? Who are your kin? What can you build together?
---
Engaging
What else I'm reading/listening to/thinking about:
The Dispossessed, by Ursula K. Le Guin. I recently read this novel for the first time, and I was deeply engaged by the story of a person in an anarchist society grappling with these very questions of community, self-determination, co-operation, and freedom.
Happy Birthday, Marsha, by Tourmaline and Sasha Wortzle. I learned about this film four years ago when it was in post-production and was so excited to watch it. A lot has happened since then, but I am over the moon that this gorgeous, poetic gem of a short is finally available online finally available online.
The Faggots and their Friends Between Revolutions, written by Larry Mitchell with illustrations by Ned Asta. I had never heard of this book until it's recent 40th anniversary reprinting by Nightboat Books. It is on its way to me now, and I can't wait to read it. From all accounts, it's going to be fabulous. Here's what Nightboat says about it: "This book offers a trenchant and irreverent critique of capitalism, assimilation, and patriarchy that is deeply relevant today."
---
Thank you and please share!
If you enjoyed this post, please consider sharing it with others who might also enjoy it. This newsletter is currently free, so the best way you can show your appreciation is by spreading the word and hitting that "heart" button. And if you're not yet subscribed, please sign up below. Thank you!